BERGOGLIO ENTANGLED IN ANOTHER COVER-UP –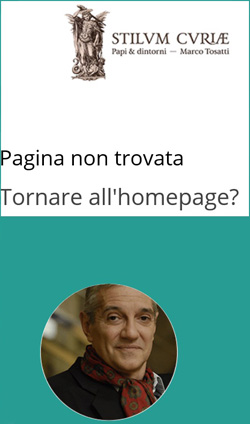 Tossati's article was removed from his website soon after being published...
On May 26, 2018, journalist Marco Tosatti from La Stampa in Turin, Italy, posted an article on his website Stilum Curiae reporting the involvement of Pope Francis in a cover-up for a pedophile priest in Buenos Aires when he was Archbishop of that city. The article refreshed some little-known old data reported by the Spanish blog Publico. Soon after, however, Tossatti's article was removed from that site, probably due to pressure from the Vatican.

Nonetheless, his full article had been transcribed by another Italian website – Acta Apostolicae Sedis. The reader can find a snapshot here; the second part of the posting is Tossati's article. The Brazilian blog Fratres in Unummade the piece accessible in Portuguese, where I found it, with its various Spanish and Italian links. I thank the blog for this important public service. I am translating the data into English and passing the information on to my readers.

The case history & cover-up

In May 2013, the Appeals Tribunal of Quilmes, Buenos Aires, Argentina, confirmed a sentence by the City Court condemning the Diocese to pay US $27,000 (115,600 pesetas) to a victim of pedophilia to compensate for his psychological treatment and the moral damage he suffered.
AMDG